We recently returned from the first family Hawaii trip with 90 photos on display. Will and Andrew ended up loving playing in the ocean, along with a pirate ship cruise, a visit to the Dole plantation, a wild sea turtle named Brutus and all kinds of family fun!
October brought us birthday parties, treasure hunts, a Craven Farms visit, Halloween and 34 new photos for your perusal. Highlights include R2-Andrew and Will's Sonic the Hedgehog costume, copious amounts of Legos, and Sonic and Tails birthday cakes.
Hot on the heels of our latest trip to California, we have 36 new photos for your viewing pleasure. Included: playing in the dirt and mud next to the hotel (with copious lens flares), the Castilleja 15 year reunion picnic, the Radian Water Polo reunion picnic and a trip to Happy Hollow.
Will and Andrew have now taken a pair of two hour ski lessons up at Steven's Pass. The first time, on Easter, they didn't even get up the "magic carpet" onto the bunny slope. Last weekend they did much better.
Three more short clips: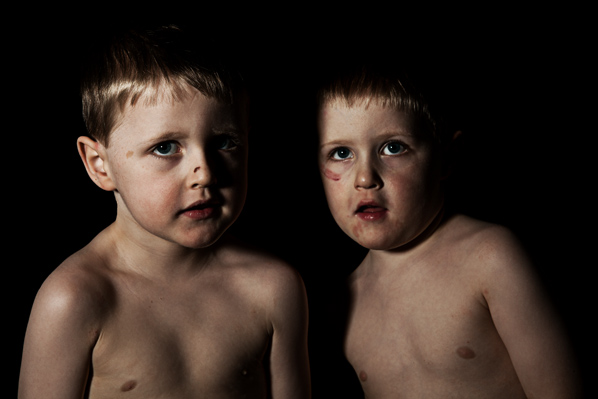 Will and Andrew are each sporting facial lacerations today. Will fell while running around at the park a few days ago and scratched up his nose and got a fat lip, and Andrew slipped while climbing up a slide and fell onto the stick he was carrying. Four year olds.
Here is a small batch of 9 photos, including their Octonauts goggles and disassembling and old computer.
I've posted a backlog of 20 photos from July here which include a trip to Northwest Trek and daylight 4th of July celebrations on our street.
Amusingly, the same bear photo from 2011 is here.
A trip through the earthquake exhibit at the California Academy of Sciences sparked Will into wanting to be a Seismologist, to counter Andrew's insistence on being a Paleontologist. Yeah. (=
Full set here, which includes ONE BONUS PHOTO!

"Silly Sentences1 is a proud sponsor of Disney Junior!"2
- Andrew, 2012-10-30
"Mommy, I have a production push3. I am sending things to another company."4
- Will, 2012-10-31
1. A card game they received for their birthday.
2. They are not.
3. He did not. (We've attempted to explain how Daddy sometimes has to work right after dinner doing production pushes… apparently at least some of it stuck.)
4. (While swinging around a glow stick in his room with the lights off.)
Here are 172 photos from our trip to the London 2012 Summer Olympics. We see the Olympic sights, witness 7 very different sports, party with the Gold Medal-winning USA Women's Water Polo team and visit the Harry Potter Studio Tour. Some highlights below:
Oh, hey there. Fancy seeing you around. It's been a while.
I'll be posting photos from our 2012 London Olympics trip (sans kids!) in the next few days, but I figured I'd throw up this panorama of the Olympic Stadium from row 9 in the meantime.

[ Medium size here (4078 x 900) ] [ Big size here (7394 x 1632) ]