Archive for 2012
I've posted a backlog of 20 photos from July here which include a trip to Northwest Trek and daylight 4th of July celebrations on our street.
Amusingly, the same bear photo from 2011 is here.
A trip through the earthquake exhibit at the California Academy of Sciences sparked Will into wanting to be a Seismologist, to counter Andrew's insistence on being a Paleontologist. Yeah. (=
Full set here, which includes ONE BONUS PHOTO!

"Silly Sentences1 is a proud sponsor of Disney Junior!"2
– Andrew, 2012-10-30
"Mommy, I have a production push3. I am sending things to another company."4
– Will, 2012-10-31
1. A card game they received for their birthday.
2. They are not.
3. He did not. (We've attempted to explain how Daddy sometimes has to work right after dinner doing production pushes… apparently at least some of it stuck.)
4. (While swinging around a glow stick in his room with the lights off.)
Here are 172 photos from our trip to the London 2012 Summer Olympics. We see the Olympic sights, witness 7 very different sports, party with the Gold Medal-winning USA Women's Water Polo team and visit the Harry Potter Studio Tour. Some highlights below:
Oh, hey there. Fancy seeing you around. It's been a while.
I'll be posting photos from our 2012 London Olympics trip (sans kids!) in the next few days, but I figured I'd throw up this panorama of the Olympic Stadium from row 9 in the meantime.

[ Medium size here (4078 x 900) ] [ Big size here (7394 x 1632) ]
109 photos from our trip to Wisconsin have been posted under the Vacations album. Included are copius amounts of family, a visit to the Mall of America, Lake Superior, Madeline Island, fun on a dock, up a tree and on multiple beaches, two campfires complete with marshmallow roasting, and other assorted shenanigans. Highlights:
And here's the quickie end of the night partial family shot: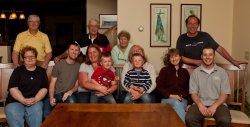 May brought a trip to California packed with Disneyland and a detour to San Diego, then back home to sprinkler fun with Kate. 41 photos are up for your viewing pleasure.
Highlights below include: Andrew doing his exercises, pool and waterslide fun, the Honey Badger Cares shirt, and watermelon in the sun.
Springtime was in full swing as Easter came around, featuring not one but two egg hunts, playing at the park and basket mayhem. 51 pieces of photographic evidence are provided here.
15 new photos of the boys are up, go check them out.
A guy over 7 feet tall and a girl under 3 feet tall (within 10 feet of each other at one point)
Some kind of large plumbing problem which spilled water all over the left side of the venue and closed down the bathrooms for over an hour
The volume not being nearly loud enough for the openers (and most likely illegally loud for Excision)
Lucky Date with a solid set
Liquid Stranger not captivating the crowd for the majority of his set, which didn't have much flow and way too many quiet/dead spaces
The lighting dude playing a game of Space Invaders on the lighting control board(!) during Liquid Stranger's set
Two guys dry humping a girl so hard that they had to carry her out to get some air
The ridiculous 100k watt PK sound system in that relatively small venue… I wasn't sure if it was going to burst my eardrums or stop my heart first. The wind from the bass was nuts.
Getting home at 2am, after Taco Bell had closed… no forthmeal tonight.