Archive for the 'Photos' Category
Here are 172 photos from our trip to the London 2012 Summer Olympics. We see the Olympic sights, witness 7 very different sports, party with the Gold Medal-winning USA Women's Water Polo team and visit the Harry Potter Studio Tour. Some highlights below:
Oh, hey there. Fancy seeing you around. It's been a while.
I'll be posting photos from our 2012 London Olympics trip (sans kids!) in the next few days, but I figured I'd throw up this panorama of the Olympic Stadium from row 9 in the meantime.

[ Medium size here (4078 x 900) ] [ Big size here (7394 x 1632) ]
109 photos from our trip to Wisconsin have been posted under the Vacations album. Included are copius amounts of family, a visit to the Mall of America, Lake Superior, Madeline Island, fun on a dock, up a tree and on multiple beaches, two campfires complete with marshmallow roasting, and other assorted shenanigans. Highlights:
And here's the quickie end of the night partial family shot: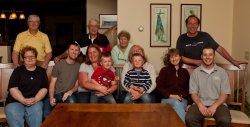 May brought a trip to California packed with Disneyland and a detour to San Diego, then back home to sprinkler fun with Kate. 41 photos are up for your viewing pleasure.
Highlights below include: Andrew doing his exercises, pool and waterslide fun, the Honey Badger Cares shirt, and watermelon in the sun.
Springtime was in full swing as Easter came around, featuring not one but two egg hunts, playing at the park and basket mayhem. 51 pieces of photographic evidence are provided here.
15 new photos of the boys are up, go check them out.
The final set of Alaksa photos are up, from the Arctic Circle add-on tour with Norm, Phyllis and Alan. (Yes, we ditched everyone else.) 162 photos are up in their own album, including Barrow, the Arctic Ocean, Deadhorse, the Dalton Highway, a wild bear, a moose and the best road sign ever created.
Here's a good map of the Dalton Highway for reference.
So apparently I haven't posted any non-Alaska photos from July onwards, so here are 109 photos from this summer. A quick recap…
We hit Remlinger Farms a couple times and picked blueberries (home and away):
We played in the pirate ship, pool and bounce house in our backyard:
We got new bikes and went swimming:
We had an early birthday party in California:
And we saw our family:
51 new photos from our glacier landing in Denali have been posted, starting on page 7.
After going back and forth for a very long time about upgrading to studio strobes, I finally pulled the trigger. I got:
A pair of Einstein E640 strobes
A Vagabond Mini power pack
2 reflectors and a stripbox with grid
A CyberCommander transmitter, receivers for the Einsteins and 3 more for my small flashes… I'll probably sell my now-unneeded PocketWizards
Another Pelican 1510 case to tote it around in (to accompany my existing one which holds all my primary camera equipment and lenses)
Some other doodads and knick knacks
Naturally I had to break them in, so I took a few self portraits and uploaded them to my semi-dormant Flickr account. Here are 2/3rds of them: me jumping around and a boring head shot.
(And, yes, I did in fact change out of my typical t-shirt into something slightly more respectable for these. 😉 )